5 Kinds of Pants For Obese Women Who Have Thick Thigh And Buttstock.

A lot of girls have obese shape possess the lower parts of body such as thick belly, buttstock and thigh usually feel down of their shapes. They think that point makes them very difficult of choosing clothes.

But they are not aware that this point would make the balance for their shapes. They would look more nice when they dress and eyes catching compare to the obese girl who have big belly but small thighs and legs.
Why is it ? Let's find out the reasons through all kind of Pants for obese women who have thick thigh and buttsock.
♦ What kinds of pants the obese people should wear to raise up their shape and appearance ?
No matter they are fat or slim girls. As long as they still possess the round, huge thigh, then the trousers which have good elasticity will be the first priority in all kinds of clothes. Because these pants not only helps your thighs become round, steady but also emphasize all the curves of your body which no pants can do better.
1. High-waisted

There is irreplaceable principle for obese girl that choosing the high-waisted is their priority caused of high back designed point would tight their abdomen circle and also their butts fully. Beside that high-waisted makes them more discreet, avoid exposing "inconvenient" point compare to low-waisted.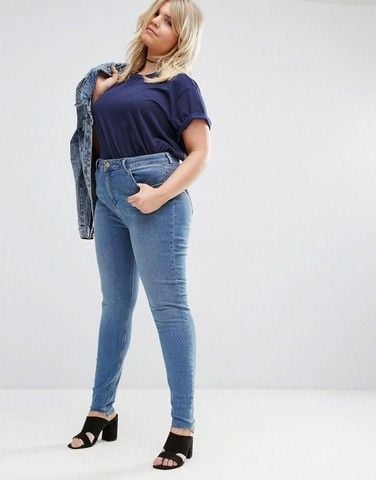 The high-waisted tights the abdomen circle and makes the legs look long and nice.

Fake jean looking high-waisted pull on pants with lightly elastical material is suitable for the girls have big thighs and buttstock.
Short jean with high-waisted and broad leg, folding edge is also the suitable choice for people with thick belly, thigh and buttstock.
2. High quality elastical material

If you accidentally picked pants which has the steady material and has no elastic. I'm sure that you only want to take it off right after you wear if for the first time. Because a fat, heavy body with big thigh and butt cannot be oppressed in a steady stereotype and hard to move.
So, the pants have good elastical material was created to bring a better solution for the cloth of people who have huge belly, thigh and buttstock the elastic not only makes the people wear it feel comfortable, easy to move but also raise up the number of the affectionate curves of obese girls.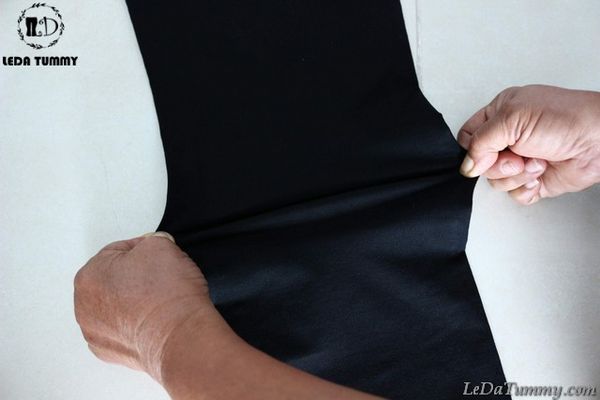 Cotton pants with elastic at all directions is suitable for stubby women with thick thigh and buttstock.


3. Dark color Pants

Obviously! If you want your legs look slim and smaller, then you cannot put dark color pants out of the list. This kind of pants creates visonal effect for people you look at you, makes everything look further and smaller. This is a safe solution when choose pants for obese women with thick thigh and buttstock.
But not only focus on wearing dark clothes but also depends on different situations to gently combin, let the light and dark color intertwines. Let the light color takes care of the body parts you are most confident about and for the rest, let the dark color handles it.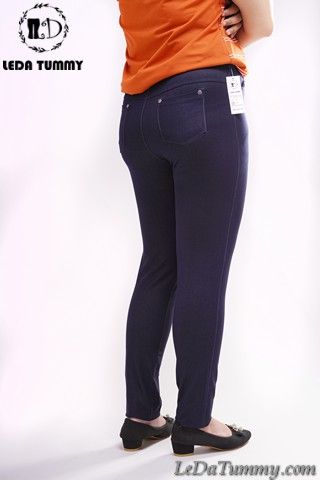 Dark color pants creates the visonal effect that your legs look slim and nice.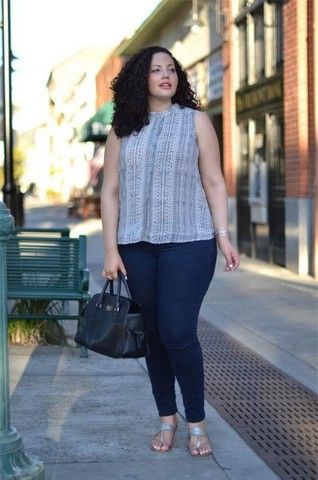 Dark color pant is the safe solution for obese people have thick thigh and belly.

4. Stand up pants
Stand up pants with the appropriate wide makes the balance for the legs. The small legs is not tight so that it will become more stubby. Your shape will look balance from the top to the legs.
Cotton elastic pants (stand up) with trouser looking makes obese girls look balance from top to bottom.

Stand up pants makes the small leg not be tight, help balance the shape for obese women.

5. Bottom edge folding pants

If the obese girls love boy-friend style pants, they can combine with bottom edge folding to make the hidden legs inside pant feeling. No one can know the real size of your legs. This is a perfect way to hide the thick thigh disadvantage.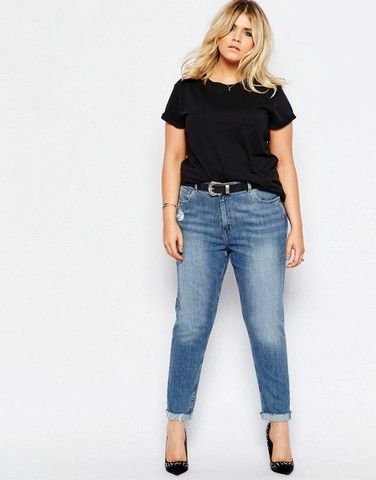 Boy-friend style pants with bottom edge folding is also the kind of pants help your legs look smaller.

We hope that with all the advices of choosing pants for obese women who have thick thigh and buttstock were shared here will be useful for the girls for choosing the suitable pants to raise up, emphasize the affectionate curves of legs and make the shape balance and nice.
---------
LEDA TUMMY

Hotline: +84 961 505 305

Trading office: B5 – 09 Celadon City, 36 Bo Bao Tan Thang Street, Son Ky Ward, Tan Phu District, Ho Chi Minh City, Viet Nam.

Storage store: 2056/30 Huynh Tan Phat Street, Nha Be Town, Nha Be District, Ho Chi Minh City, Viet Nam.

Email: ledatummy@gmail.com

Website: www.ledatummy.com